All Saints
Re an opera to be sung: the recent staged oratorio version of Four Saints in Three Acts presented at the CUNY Graduate Center as part of an event celebrating the 75th anniversary of its Broadway premiere
by Lonely Christopher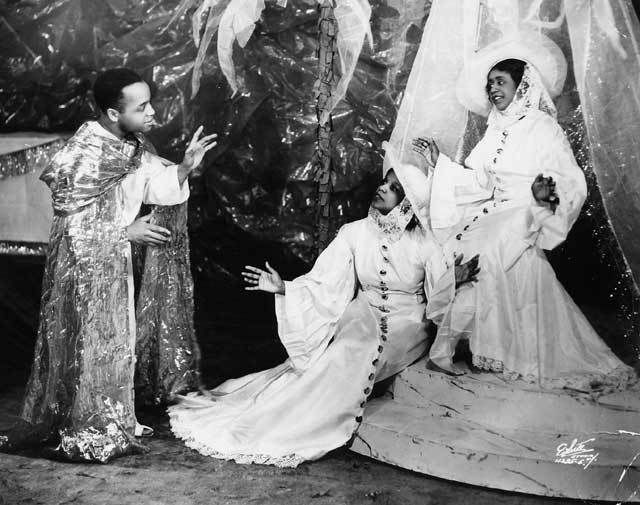 Gertrude Stein is not known for her libretti, but her first collaboration with composer Virgil Thomson,
Four Saints in Three Acts
makes radical use of the operatic form and, paradoxically, was popularly received on Broadway in 1934. The night before I became accidentally aware of a program, at the CUNY Graduate Center, dedicated to the opera, I fell asleep --- drunk, wearing shoes --- listening to
The Mother of Us All
, Stein's opera about Susan B. Anthony. Hungover at work in the morning, I happened to read a notice about this daylong event that was already in progress and would conclude with an oratorio performance of
Four Saints
in the evening. I abandoned my employment and got on the subway. The train is where I remember reading
Tender Buttons
for the first time. Stein has been the most important writer to me for years --- curiously, only recently did I find and begin to listen to recordings of the two operas. My avoidance was casual, encouraged by what little critical treatment of the project I'd read. I became aware of
Four Saints
from a biography of Stein that described it as rightly ignored because the conservative music (churchy and juvenile, even) didn't match the radical text; Alex Ross, in his survey of music in the 20th century, dismisses the opera as silly and the original production as racist. The Broadway run featured an all-black cast, which was unheard of then. Virgil Thomson failed to articulately explain this decision, but Ross' reaction is embarrassingly starchy. The singular concept, with its historical significance, can be understood as problematic or liberatory. Accusations of insensitivity aren't helped by Stein's cringingly worded opinion: "I still do not like the idea of showing the Negro bodies." I'm aware of some alternative critical perspectives that are more thoughtful: the hypothesis that that aspect resulted from white composers' hip admiration of black culture and/or blackness characteristic of the musical climate of the time (
Show Boat
and
Porgy and Bess
are examples of this tendency, maybe) and then a queer reading positing the otherness of the black saints as a locum tenens for the outsider position of homosexuals (which both collaborators could only address using the encoded conceits of the closet). Regardless, the whole project was so bizarre that its status as Broadway hit seems impossibly uncanny --- black saints arranged in tableaus on a set wrapped in cellophane and fabric (to abstractly represent Spain), no narrative progression, and sung text such as, "Letting pin in letting let in let in in in in in let in let in wet in wed in dead in dead wed led in led wed dead in dead in led in wed in said in said led wed dead wed dead said led led said wed dead wed dead led in led in wed in wed in said in wed in led in said in dead in dead wed said led led said wed dead." The success dates from a period where Stein received general recognition (long awaited) for her bestselling memoir,
The Autobiography of Alice B. Toklas
: she returned to America for a sensational lecture tour, saw her name in lights in Times Square, was the subject of intense national press coverage as well as innumerable jokes and references (the theme of a department store window display was based on the opera's title;
New Yorker
cartoons poked respectful fun at her; a headline announced her arrival stateside, accompanied by her "secretary," describing her as the author whom few comprehend). Her celebrity was partly serious but also the product of bemusement; today it's inconceivable. She's now relegated to a specialized corner of academia, as evidenced by the program of lectures and panel discussions leading up to the performance at the Graduate Center. The audience was small and old; the organizers and participants were critics, writers, scholars, curators, &c. --- all with major Stein related projects. The woman who introduced everyone is the author of a book (which looks rather self-published, egotistic, and is printed in a really tacky narrow sans serif font) mostly about a libretto she wrote about Gertrude. The atmosphere was one of esoteric devotion (I wondered if Ulla Dydo was there): at one point I witnessed a scholar (who is preparing a book on Stein as well as related curatorial work) itemizing a display of memorabilia that was provided by a private collector (who was there, proudly assisting her list making). Eventually people who had never written a book/thesis/libretto (or even an essay or blog entry) about Stein arrived for the oratorio performance and the recital hall was filled to capacity. I sat between individuals who, like me, were clearly alone: a lady who produced the text of the libretto and read along the entire time and a man who chuckled at almost everything. I am not a frequent concertgoer --- and when I manage it the circumstances usually find me stuck at the upsetting remove of the fifteen buck standing room seats at the Met (never try that) or sitting in the second mezzanine directly behind a large pole at BAM --- so I appreciated the intimacy afforded by the space. The stage just fit the orchestra, choir, and principal singers (and left no room for the three dancers) --- when the concert began, the startling and waltz-like opening blurts struck me like a vehicle; the sound had presence/immediacy that the album hadn't educated me in or, to start, prepared me for (and yet the sung imploration is to "prepare for saints"). I understand how Thomson's style could be derided as simplistic and insubstantial, but that's also a common complaint about Stein --- I think nothing of it in that example because my enjoyment of her has metastasized in earnest (I'm helpless: it's a final property). When the music began I wasn't intellectualizing, I was silently allowing for the pulverizing relationship between what I heard and
that
I heard. Unfortunately the epiphanic and teary amazement of the opening wasn't sustainable under the circumstances, although I don't know if it's valid to complain that a performance failed to constantly make me feel that the only tense is the present and that I am made of pure light. The whole thing was indescribably enjoyable, although the minimal dramatization was questionably staged and there were several annoying glitches. The director apparently began her career with an early production of
The Mother of Us All
. I've been listening more to
The Mother of Us All
lately than
Four Saints
although it's less complete/resounding and, compared to the unlikely novelty of the earlier collaboration, of a much more conservative bent (imagine Stein writing a celebratory scene, the music patriotic and march-like, with the lines, "The vote! The vote! The women have the vote! They have it each and every one. It is glorious! glorious! glorious!"). The recent preferment of the second opera is sort of shallowly motivated ---
The Mother of Us All
is way catchier. The director's history with Thomson wasn't demonstrated in this staging, unfortunately: the sentimental smiles forcefully plastered on the singers' faces quickly turned creepy/sinister, the costumes looked like pageant robes borrowed from the basement of a Midwestern church, the lead baritone had some vocal trouble and generally seemed wrong, a stage door kept slipping open and accidentally revealing a wheelchair ramp, and corny images (possibly the results of hurried Google image searches for "sky" and "water droplets") were projected insincerely on the upstage wall. Regardless, nothing could prevent
Four Saints
from actualizing its avant-garde gorgeousness. Many will never experience this opera as originally presented --- or as later interpreted by Robert Wilson --- but the opportunity of even a weakly dramatized oratorio abridgement provides an uncommon profit after being restricted to on an old vinyl recording transferred to digital format.
Four Saints
doesn't operate according to operatic convention --- it is a pageant exemplifying the holiness of that which "makes it be not be makes it not be at the time. The time that it is as well as it could be leave it when when it was to be that it was to be when it was went away." Which is a fact.