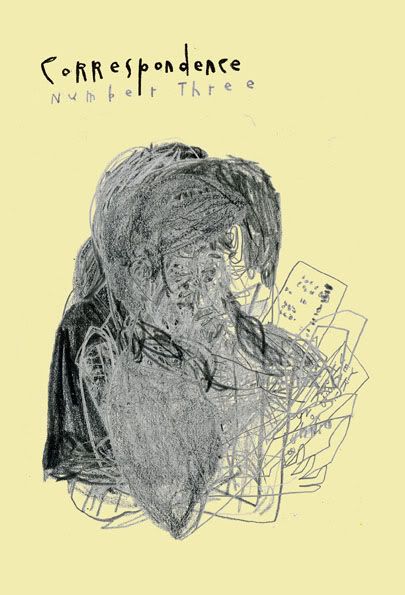 Brick is Red
Hey, thanks everybody who made it out to the KGB Bar on Wednesday for our issue three launch reading! We had a blast, as was expected. If you missed out (where were you!?), there's some pictorial evidence of the event, in the form of a few snapshots, available on our
website
. Also, Justin Taylor was nice enough to provide a little write-up of the event on
HTMLGIANT
. Take it from Mr. Taylor: "You heard it here first, kids:
these guys are onto something
." Remember, even if you didn't catch the reading --- you can still bask in the splendor of
Correspondence
No. 3 by purchasing it (ten dollars, cheap!) from our
Online Store
! It's out and awesome: more details re its contents available in
this previous post
.
No. 3 Takes San Francisco
And for any Bay Area residents who might be reading this --- take heed:
Correspondence
is set to hit California next week… with a West Coast launch reading at Adobe Books. Here's the press release:
Please join us for an evening of ecstatic riddles, laughter, innuendo, and just plan kickass work by three outstanding writers, who celebrate the release of
Correspondence
#3, a new journal of poetry, prose, and critique hailing from Brooklyn.
Nona Caspers, levitational SF fictioneer and light of your evening, author of
Little Book of Days
and
Heavier Than Air
, will appear to neurally enchant. Lonely Christopher, enigma and co-editor of
Correspondence
, is in from New York for this one reading only – don't miss his swanky and dangerous verbiage! Richard Loranger, unrepentant squeaky wheel and poeticist hunter, will swim in from Oakland to ignite a chunk of his life.
And once the wonder has worn off (if indeed it does), you can pick up your copy of
Correspondence
and browse the terrific selection at Adobe Books.
CORRESPONDENCE
#3 RELEASE PARTY
a reading by
Nona Caspers
Lonely Christopher
and Richard Loranger
Tuesday, March 16, 2010
8 pm
free of charge
Adobe Bookshop
3166 – 16th Street
(between Valencia and Guererro)
San Francisco
PERFORMER BIOS
Nona Caspers
is the author of
LITTLE BOOK OF DAYS
(2009) and
Heavier Than Air
(2007), which received the Grace Paley Prize in Short Fiction and was a
New York Times Book Review
Editors' Choice. She has received a 2008 NEA Fellowship and an Iowa Review Fiction Award, among others. Her stories have appeared in
Cimarron Review, The Iowa Review, Ontario Review
, and
Women on Women
. She teaches Creative Writing at San Francisco State University. Find out more at
her website
.
Lonely Christopher
is a founding member of The Corresponding Society and an editor for its lit journal
Correspondence
. He is the author of the poetry volume
Into
(Seven CirclePress, with Robert Snyderman and Christopher Sweeney), the forthcoming short fiction collection
The Mechanics of Homosexual Intercours
e (Akashic, early 2011), and several chapbooks:
Satan; Wow, Where Do You Come from, Upside-Down Land?
; and
Gay Plays
. His plays have been directed internationally and published in Mandarin translation. His new plays
Endymion Dreams the Moon
and
Pages from a Course in General Linguistics
will be staged in New York City this March and April.
Richard Loranger
is a writer, performer, visual artist, and all around squeaky wheel, currently residing in Oakland, CA. He is the author of
Poems for Teeth
(We Press, 2005), as well as
The Orange Book
and eight chapbooks, including
Hello Poems
and
The Day Was Warm and Blue
. Recent work can be found in
Correspondence
1, 2 & 3 and
CLWN WR
42& 45, and the Uphook Press anthology
you say. say
. He wants only a calm moment.
Hooray!