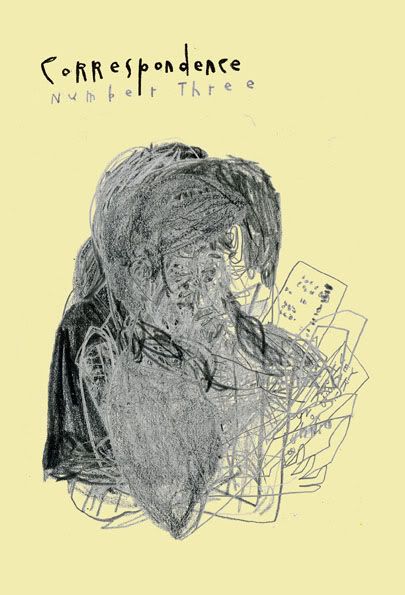 Of making many books there is no end. The Corresponding Society is hysterically pleased to announce
Correspondence No. 3 is now available for pre-order
! (The official release date is March 10.) This thrice-valiant journal of letters continues our project of publishing a paradigmatic document of some of the outstanding creative writing right now emerging from a giant array of young/different perspectives. This edition houses a rainbow of poetics from the writerly community surrounding The Corresponding Society and well beyond.
Details!
Prepare thyself for the strongest fund of letters we have yet managed. For example:
Richard Loranger
(
Poems for Teeth
) returns to our pages with more shiny human epiphanies;
Christopher Sweeney
(
Into
) presents a selection from his complex and arresting long-form project "Face";
Julien Poirier
(founding member of Ugly Duckling Presse) speculates that if Abraham Lincoln was gay, then George McGovern is not George McGovern;
Sonia Farmer
offers lyrical excerpts from a collection that won the 2009 Pratt Institute's Poetry Thesis Award; there's a generous portion of a new project, a scriptible collaboration with the work of
Georg Trakl
(
Gesang des Abgeschiedenen
), from
Christian Hawkey
(
Citizen Of
);
Ben Fama
(founder of Supermachine Poetry) gives us some enchanted verse, declaring: "Women of Odessa/I come bearing .gifs"; and
Lonely Christopher
(
Wow, Where Do You Come from, Upside-Down Land?
) finishes the volume with an invisible period in the form of a long ode to the aspirations and failures of young writers. Regulars to The Corresponding Society with real estate in this issue include: Jody Buchman (fiction), Robert Snyderman, Chanelle Bergeron, Greg Afinogenov (translations), Matthew Daniel, Adrian Shirk (fiction), Jenny Stohlmann, Katie Przybylski, and an illustrated story by Ray-Ray Mitrano (he also did the cover). This issue also features important new work from writers scattered all over, proudly uncovered and presented by the editorial brain, including: A.E. Wilson, Christopher Brean Murray, Lily Herman, Lewis Freedman, and Chanice Greenberg, Wow, wow, wow.
We published it, now we would like you to read it. Toward that end: to
pre-order No. 3
directly from us, please follow the link to our
Online Store
. This issue will also presently become available in select finer bookstores nationally. If you want to catch some of us on tour, you can keep track of our schedule on the
Events Page
.